Costa Rica
Posted on Sep 6, 2023
Planning a reunion is challenging with my parents in Atlanta and my brother's family in DC and hasn't happened since before COVID. This year started the same with conversations about who was going to host, where we were going to meet, etc, until we all discovered that we wanted to go to Costa Rica. We booked our tickets, figured out what we wanted to see, and finally had our long awaited family meet-up.
Planning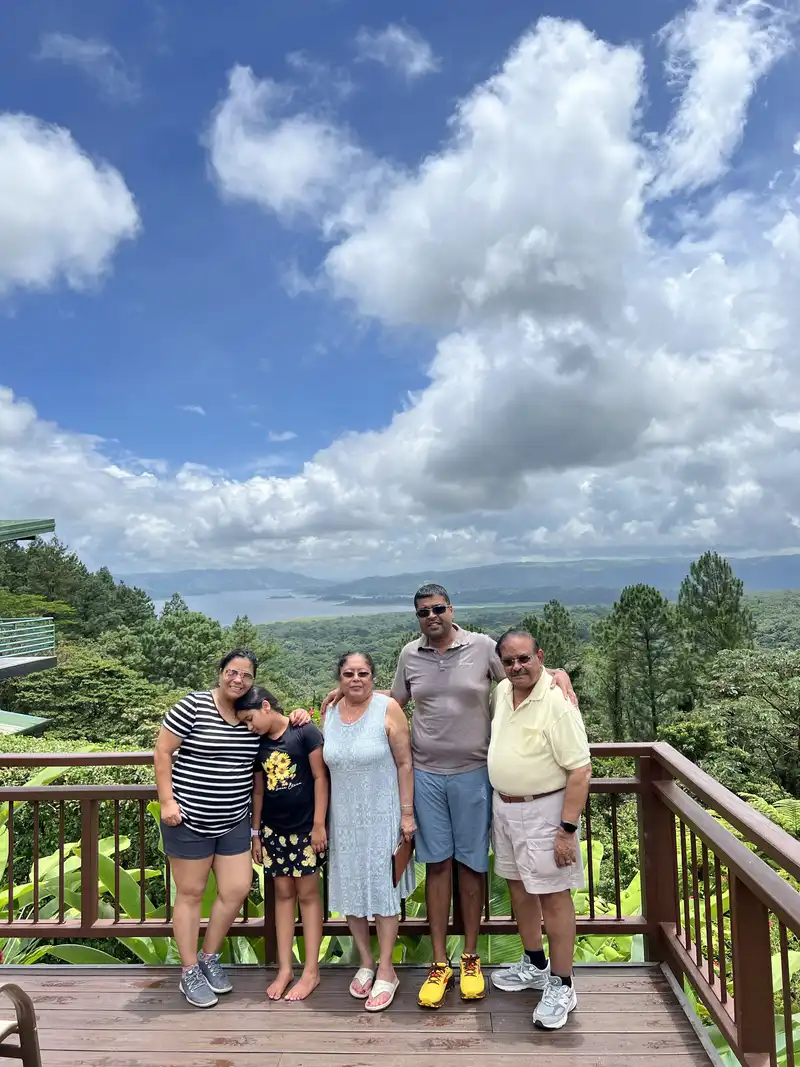 Sonali, Mira, and I along with my parents.
Costa Rica is not a physically large country, but there is much to see with numerous famous forests, turtle beaches, and diving spots. Thee large mountain range that cuts through the middle getting from coast to coast and the general topography of the country adds a lot to travel times. Our first real task was narrowing down what we'd like to experience and balancing that with the desire to have chill time with the family.
We decided we were going to focus on the north west part of the country easily reachable from the Liberia Airport. The destinations we chose were the Arenal Volcano, Monteverde cloud forest, and Portero Beach.
Arenal was a highlight of the last trip my parent's took to Costa Rica. The Monteverde was a location that Sonali and I had planned to see on our never happened trip that we planned prior to having Mira. Potrero was the only Pacific beach where we were able to find a hotel we could all agree on.
Although summer is the slower season, availability for accommodations were tight. We weren't able to find hotels for all of us on Arenal and Monteverde and ended up in slightly different places on slightly different days.
With the flights and destinations out of the way, transport between the locations was the next thing to figure out. Most of these destinations are popular enough where the hotels can arrange travel with a trusted shuttle provider. We were able to make use of this for the airport transfer to Arenal and the jeep-boat-jeep transfer between Arenal and Monteverde.
Unfortunately Potrero was not as common of a destination and we ended up having to do something that I really did not want to do. We rented a car and I committed to drive through Costa Rica. I was very worried about this, but it ended up being pretty easy and I might do this for the whole trip next time.
Arenal Volcano
Flying from Seattle to Costa Rica is somewhat painful. Central America is both pretty far east and pretty far south and it's a 13 hour total trip time. Then as soon as we landed it was through customs then straight into a van for the 2.5 hour ride to Arenal. I don't normally get car sick but the long red-eye followed and the hot, humid conditions over rough roads did not make for a comfortable ride. (Though, if we're going to be fully transparent, the cocktails on the plane may have been a contributing factor)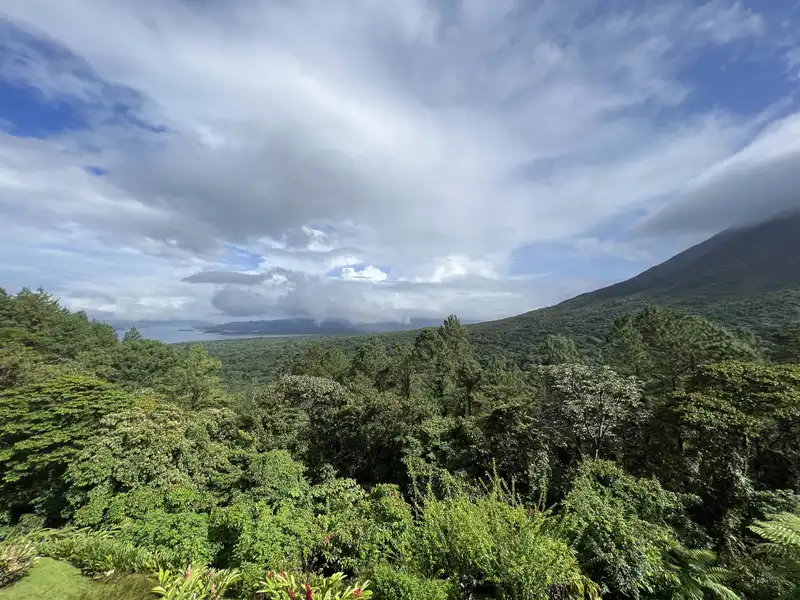 Looking out over the dense jungle towards the valley with Arenal Lake. The lake bends a few times over its 19 mile length.
But still, the countryside was gorgeous and lush. If all we saw was the view from the airport, we would have been happy. The scenery got better from there.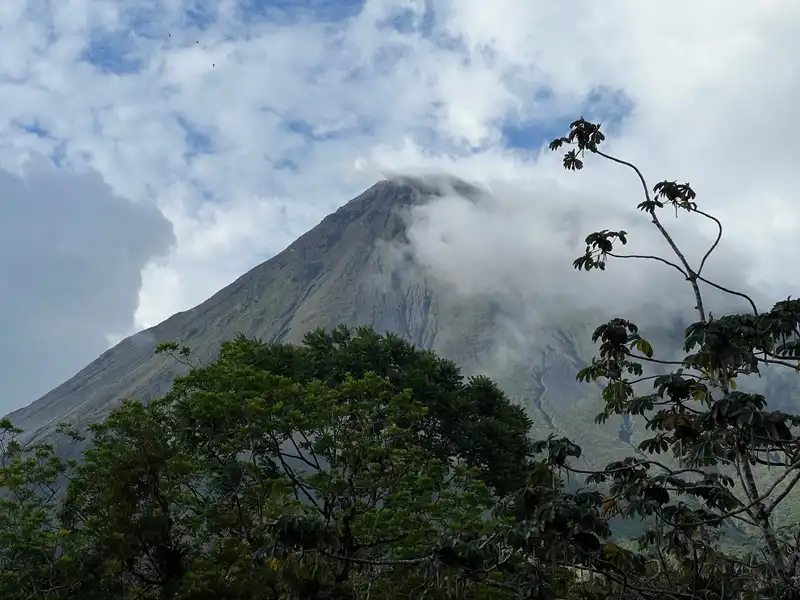 The Arenal volcano is the ideal look for a jungle volcano: A perfect cinder covered in trees

Panorama from the main deck of the Observatory. To the left is the lodge restaurant and bar. An indoor restaurant was a rarity. Arenal is hiding behind the clouds on the right. There's some fruits in front that are used to attract birds.
We were with my parents for the first two locations, Arenal and Monteverde. In Arenal we stayed at the Arenal Observatory Lodge & Trails. When the Arenal Volcano went active in 1968, scientists from the Smithsonian would stay on the farm that eventually became the hotel. It's also within the Arenal Volcano National Park and has its own collection of trails.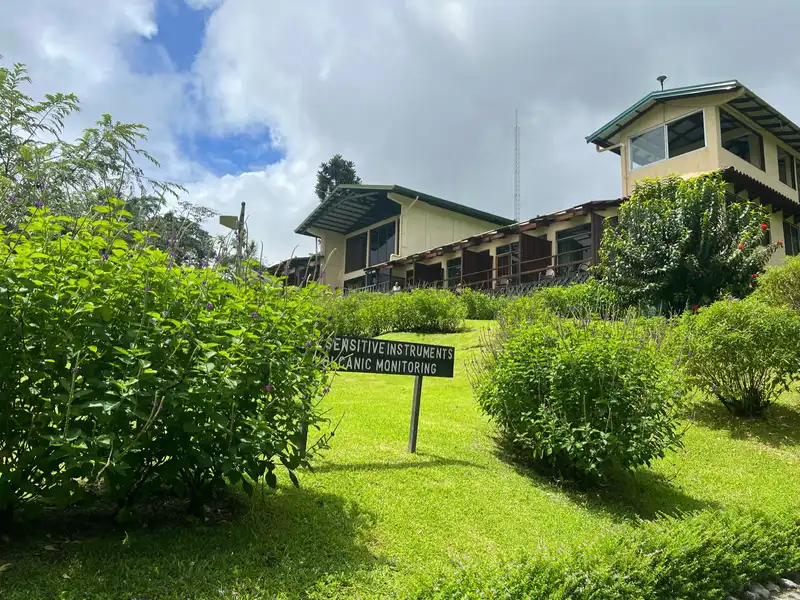 Originally built as a observatory, this building has been converted to hotel rooms. My mom is on the balcony in the center.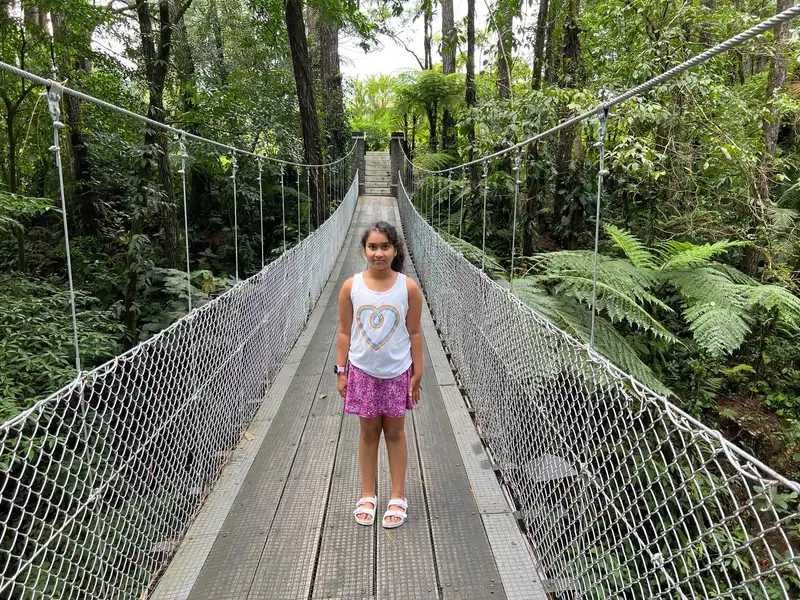 It's a large complex and getting from our rooms to the restaurant required crossing the hanging bridge. Only 6 people at a time allowed!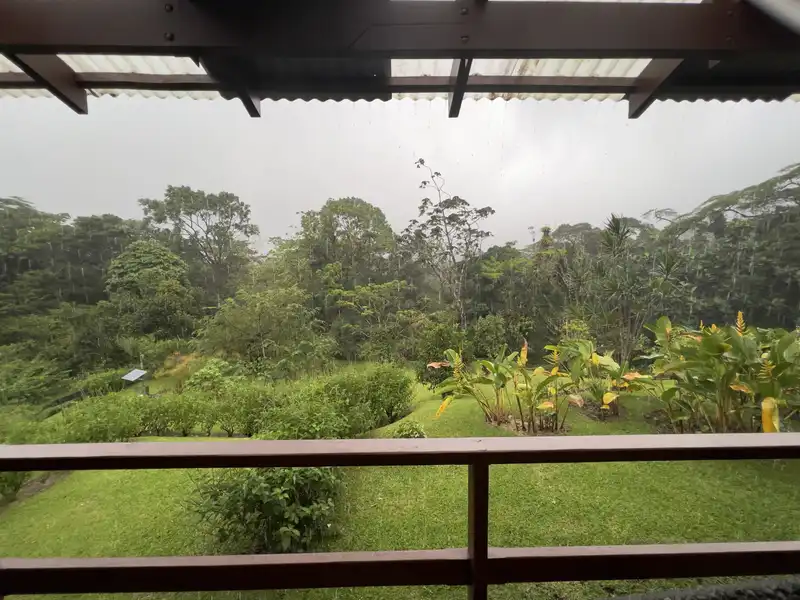 Our rooms were the ones closest to the Volcano and jungle. Humming birds and Kuati's would come straight up to our rooms.
Along with the trails through the rainforest, the hotel's grounds also included manicured gardens and a farm. As a result there were plenty of interesting plants, animals, and birds to view. While there have been calls for this blog to include more food pictures, the camera was largely pointed off-plate.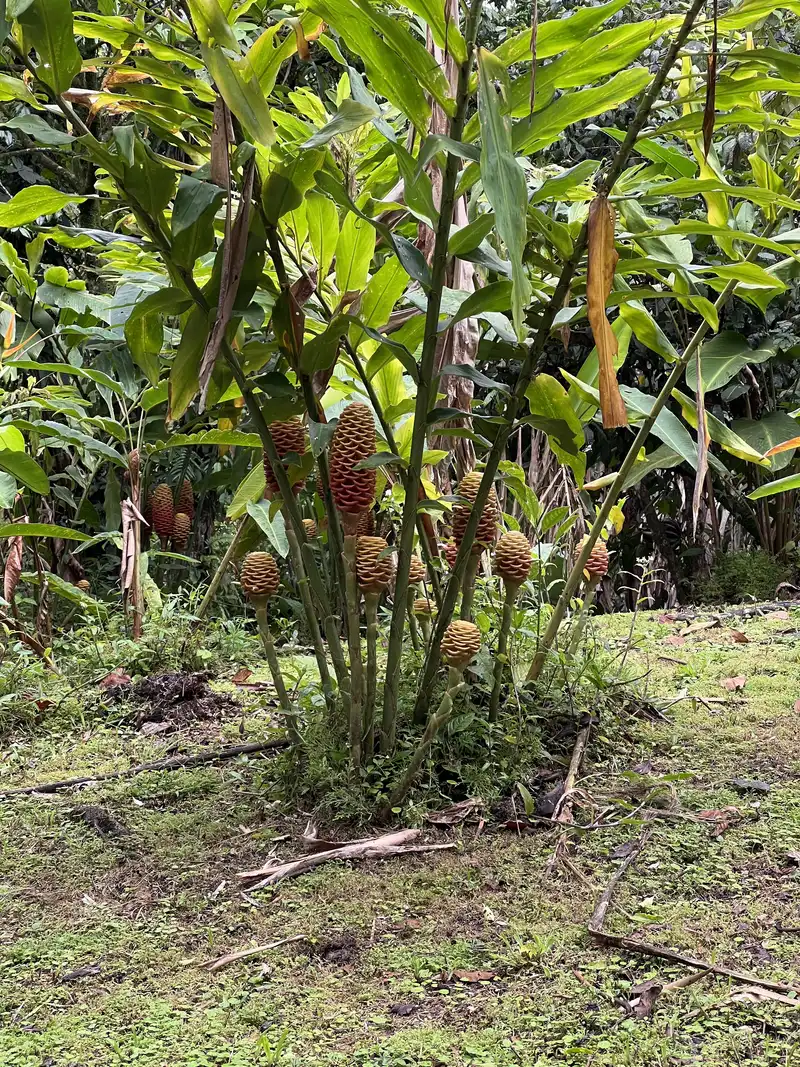 The maraca plants were one of my favorites.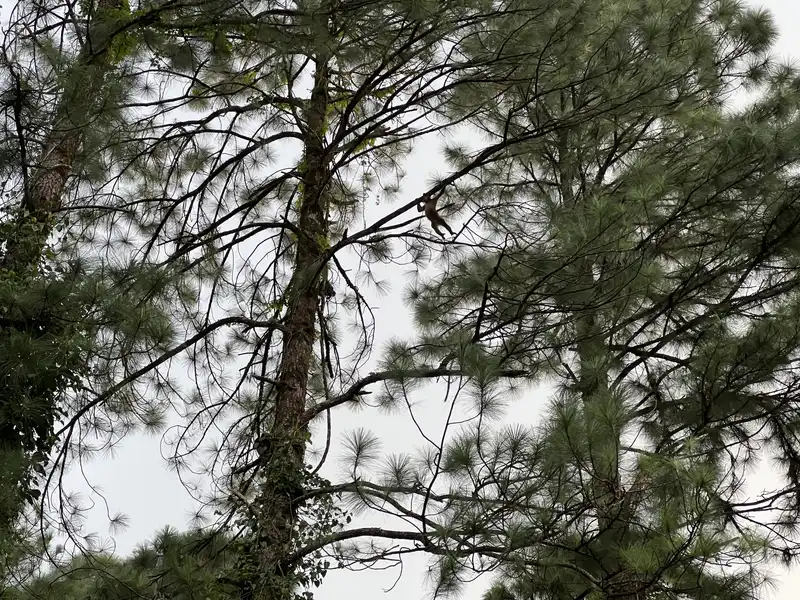 We saw a troupe of monkeys as we were swimming in the pool. They made their way back the following evening as well.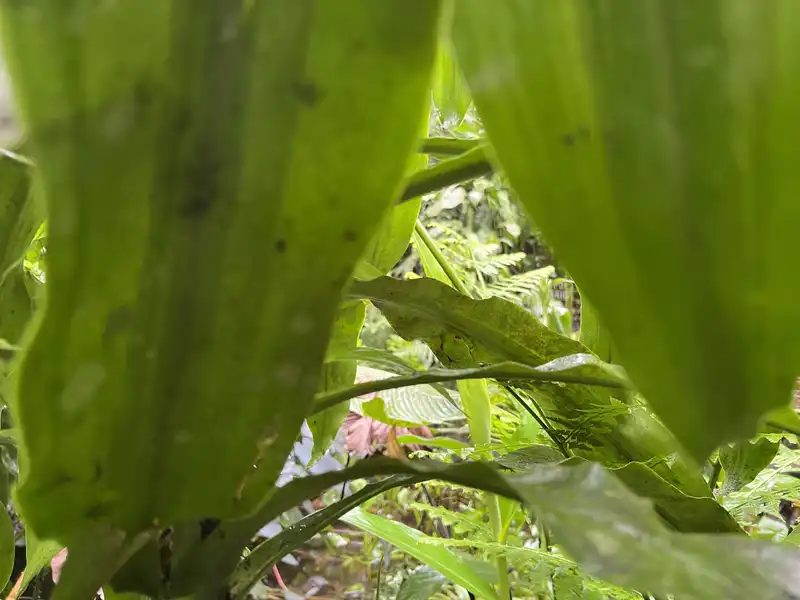 You can see a red-eyed frog in the center of this picture. The density of wildlife was amazing but easy to miss if you were not looking for it.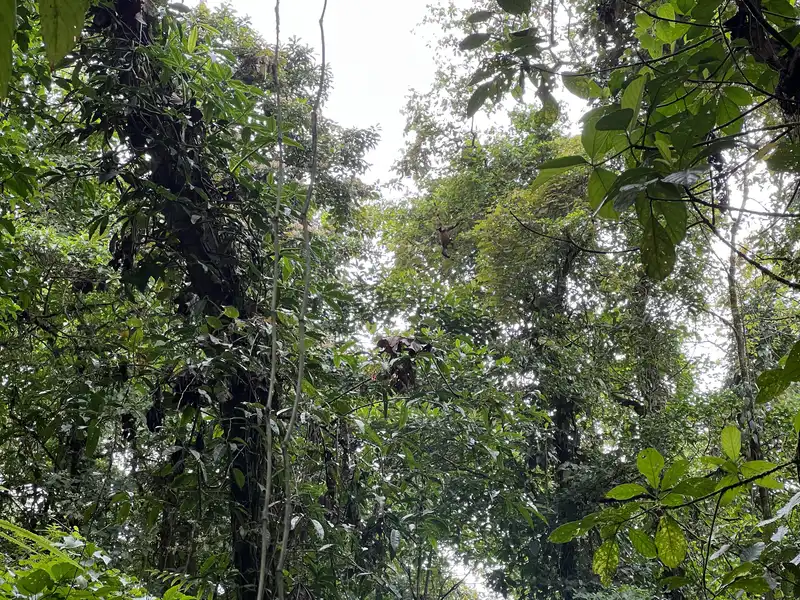 This spider monkey was moving through the trees just a few hundred yards from our hotel rooms. The howler and spider monkeys in the park generally keep to themselves and don't bother the humans. The Coatis are a different story though.
One of the attractions of this hotel was their network of trails. On-campus hiking was a big draw. We were a mixed skill level group with no transport. Anything further afield would have been logistically challenging. Of course, since the rainforest was outside of our window, there really wasn't a reason to go far.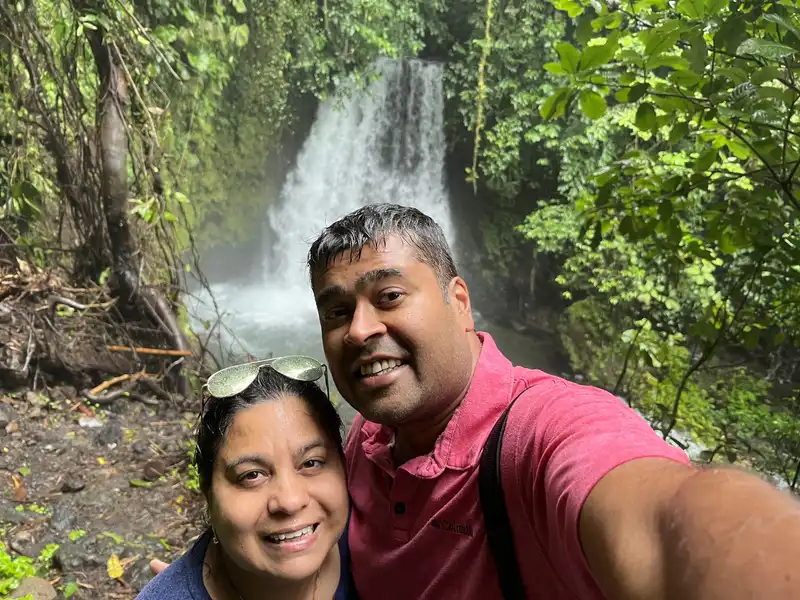 Sonali and I decided to walk down to the waterfall and got caught out by a rainstorm halfway there.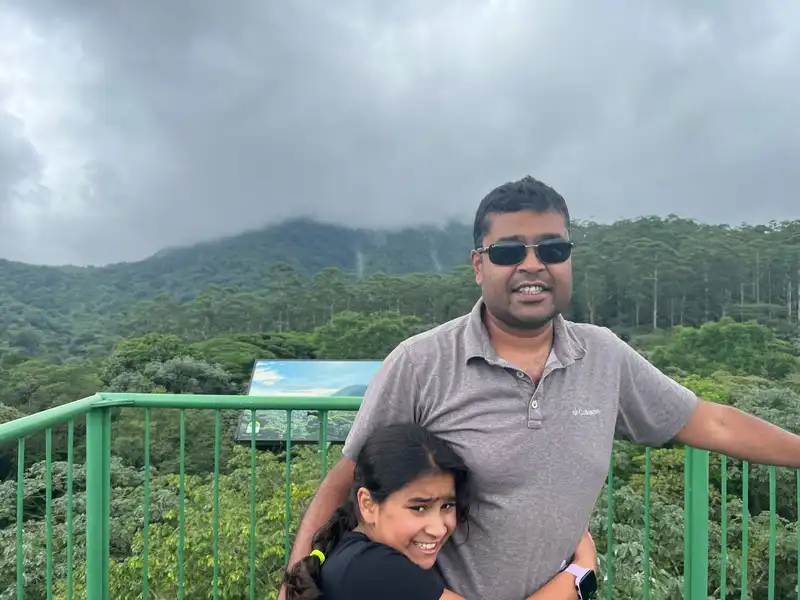 The Observatory had this observation station above the canopy layer. The platform moved around quite a bit, which did not mesh well with my fear of heights.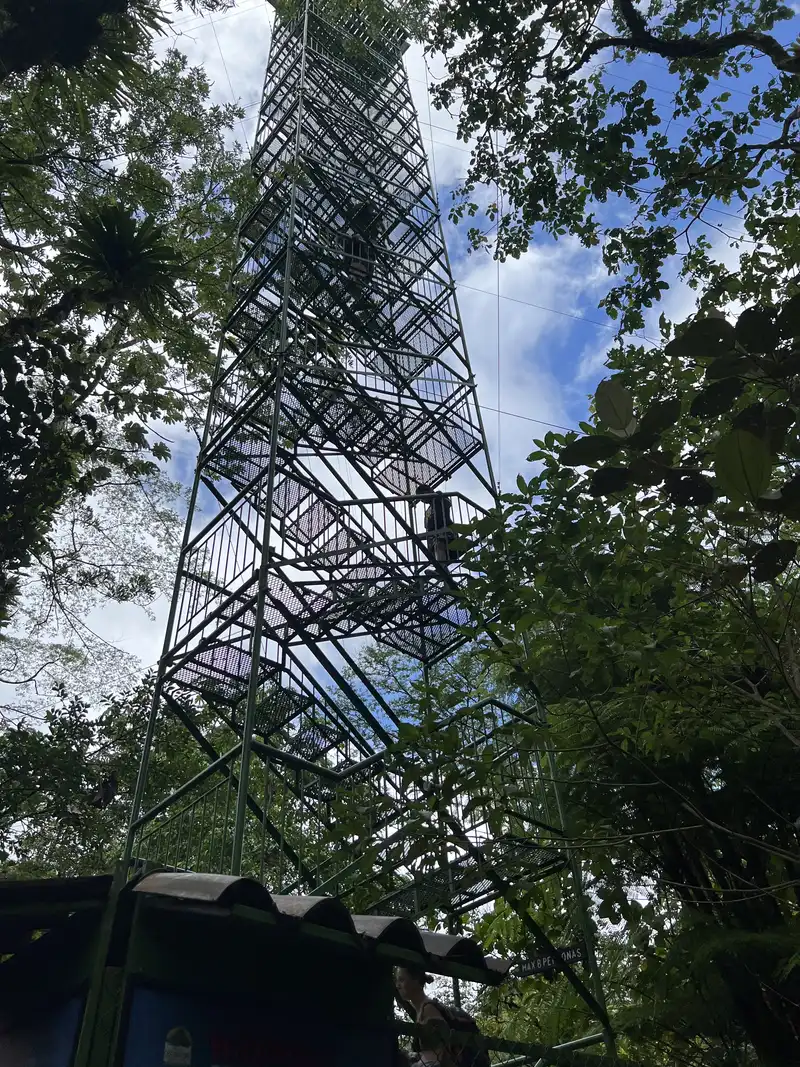 Getting up there was a few hundred steps of climbing these steps. I tried not to think to hard about how there was no railing on the inside.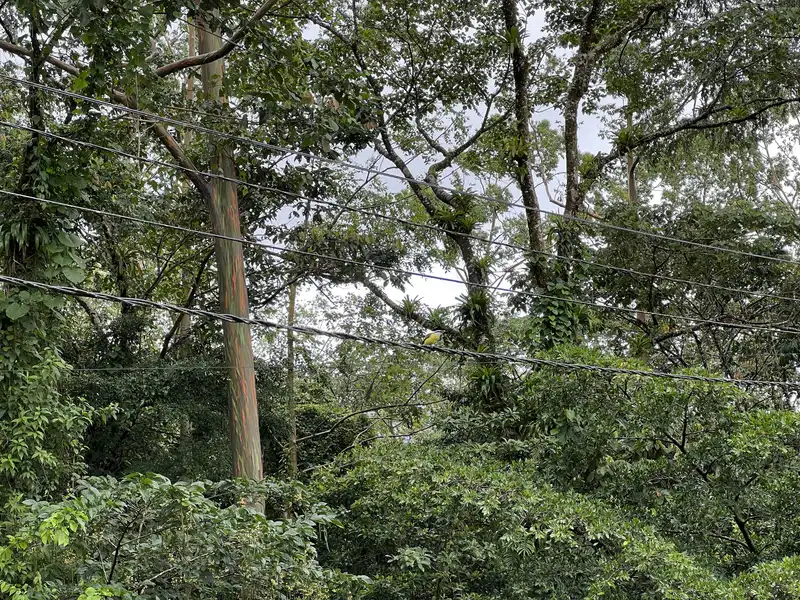 There are interesting birds everywhere. This yellow tanger hung out long enough for me to get a shot. To the left of the Tanger is a rainbow eucalyptus tree which were imported from Australia as part of the reforestation program for the farm.
Unfortunately the rainforest lived up to its name and the full volcano did not come out in full after the first day.
Arenal to Monteverde
Birds and monkeys have a natural highway between Arenal and Monteverde, but this is not an easy path for humans. The two choices are to take the roads all the way round Arenal Lake or take a jeep from the hotel to the boat dock, take the boat across the lake, then take another jeep into Monteverde.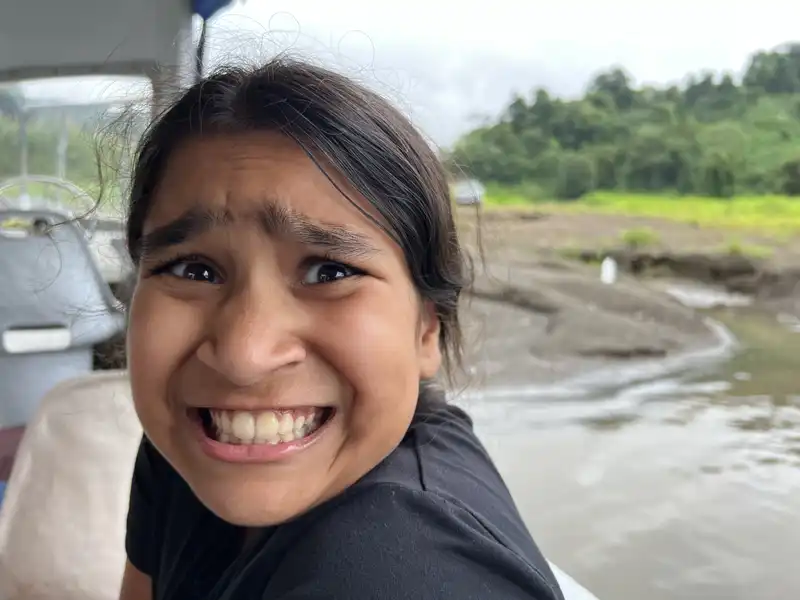 A little unsure about this boat trip. It was okay, the boat's motor only cut out once and we did not get rained on.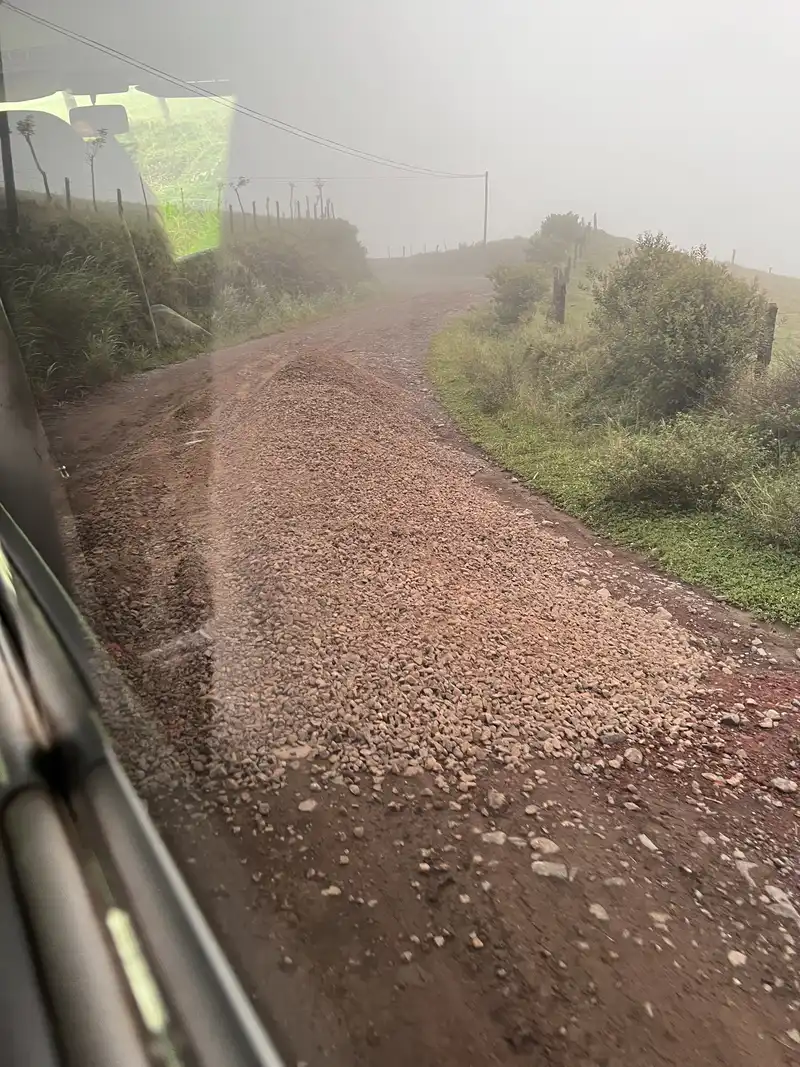 The roads in the mountains are pretty rough since they keep getting washed out in the heavy rains. We were delayed for a bit while a trunk dumped some gravel to help smooth out this section. (There was a road roller behind us that would do the actual smoothing)
A major reason we did Arenal first was that the Arenal boat launch required moving luggage up a muddy hill when arriving from Monteverde. Since this was the "dry" season, the lake was lower our jeep parked in a flat area near the boats. It was actually on the Monteverde side that had the muddy hill where the luggage didn't roll.
The transport itself was pretty easy and the breaks helped everyone out. In both the boat and the jeep gave plenty of opportunities to observe the scenery which was very much a tropical paradise punctuated by snapshots of modernity.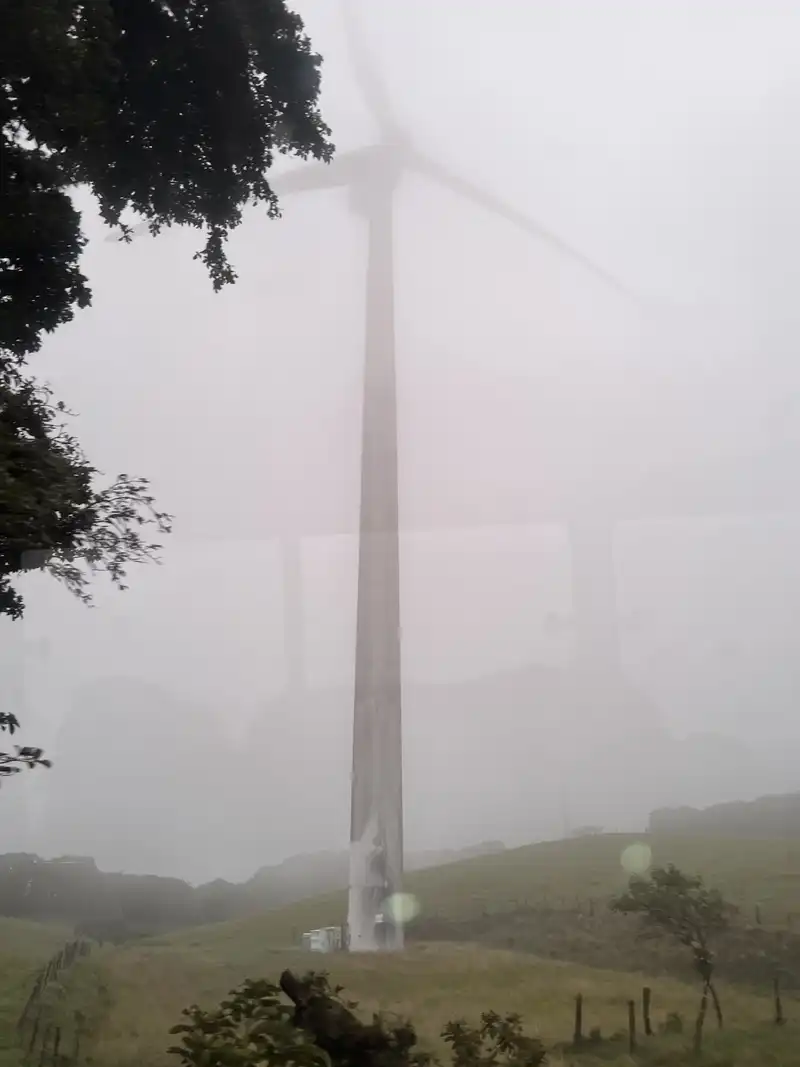 Alternative energy is big in Costa Rica. There are windmills everywhere. There are also lots of birds everywhere, so whomever thought that was a problem shouldn't be worried.
The Monteverde Cloud Forest
Befitting the name "Cloud Forest" Monteverde is at 4,600ft and much higher than Arenal. The weather was more temperate, which our Seattle based bodies really valued.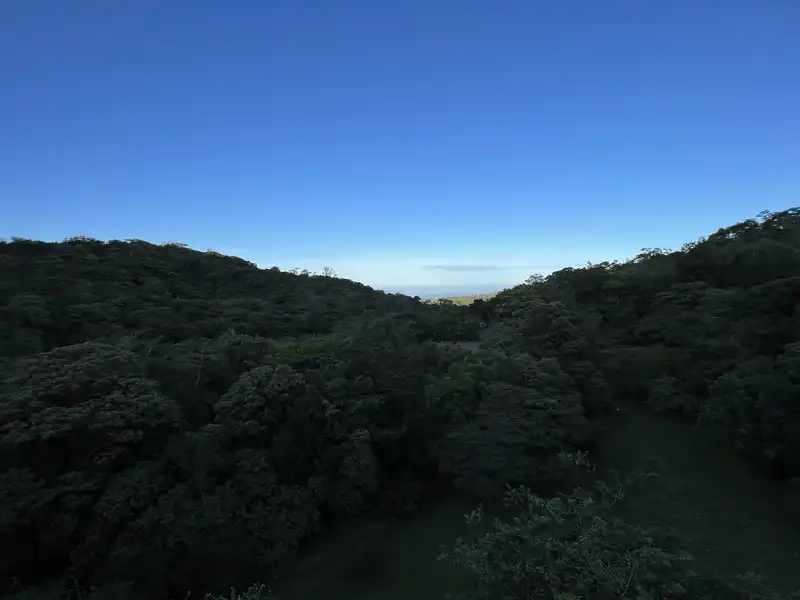 The view out of the Monteverde Cloud Forest Lodge. We were surprised to learn you could see the Pacific Ocean from here.
Similar to the Observatory, the Cloud Forest Lodge was another eco hotel tucked into the wilderness reserve which brought nature right to our doorstep. Which also meant that we were a bit of a captive audience for their restaurant, but that was okay since their food was really good.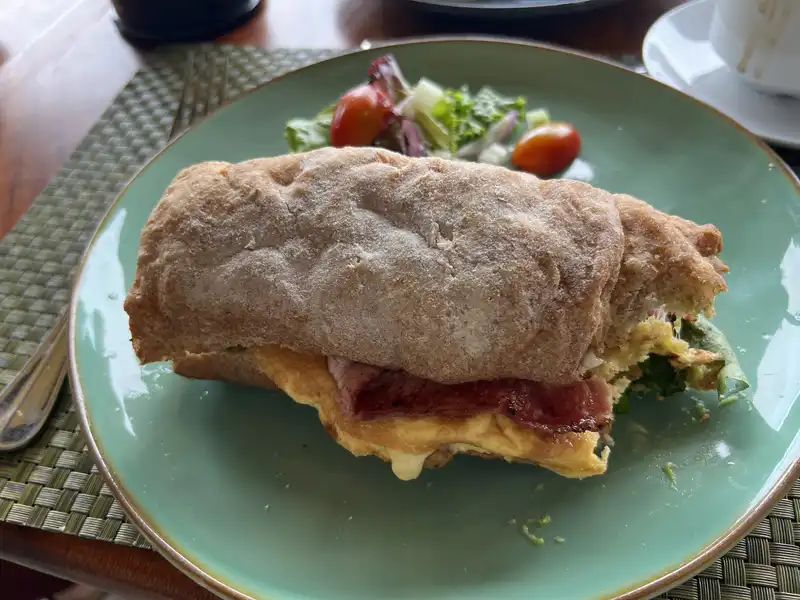 They made most items on premises, including the bread and pasta, and sourced what they could locally. This breakfast sandwich was really good and I had a bite before remembering to take a picture.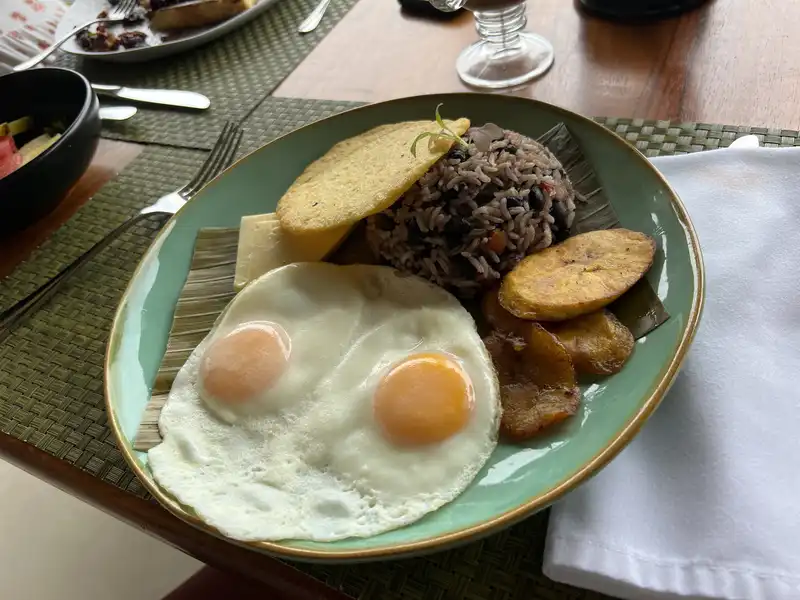 Our favorite breakfast became the Tipico and we especially loved how flavorful the rice and beans were with little bits of onion and pepper mixed in.
Only a very small part of the actual cloud forest national park is accessible to tourists, with the numbers allowed at one time being tightly controlled. Getting a guided tour can help guarantee entry. I feel like a tour guide was a must since there was so much we would not have seen except for his experienced eyes. It brings new meaning to the phrase "missing the forest for the trees."
The preserve also had a hummingbird center with so many birds you were constantly getting buzzed as they moved from feeder to feeder.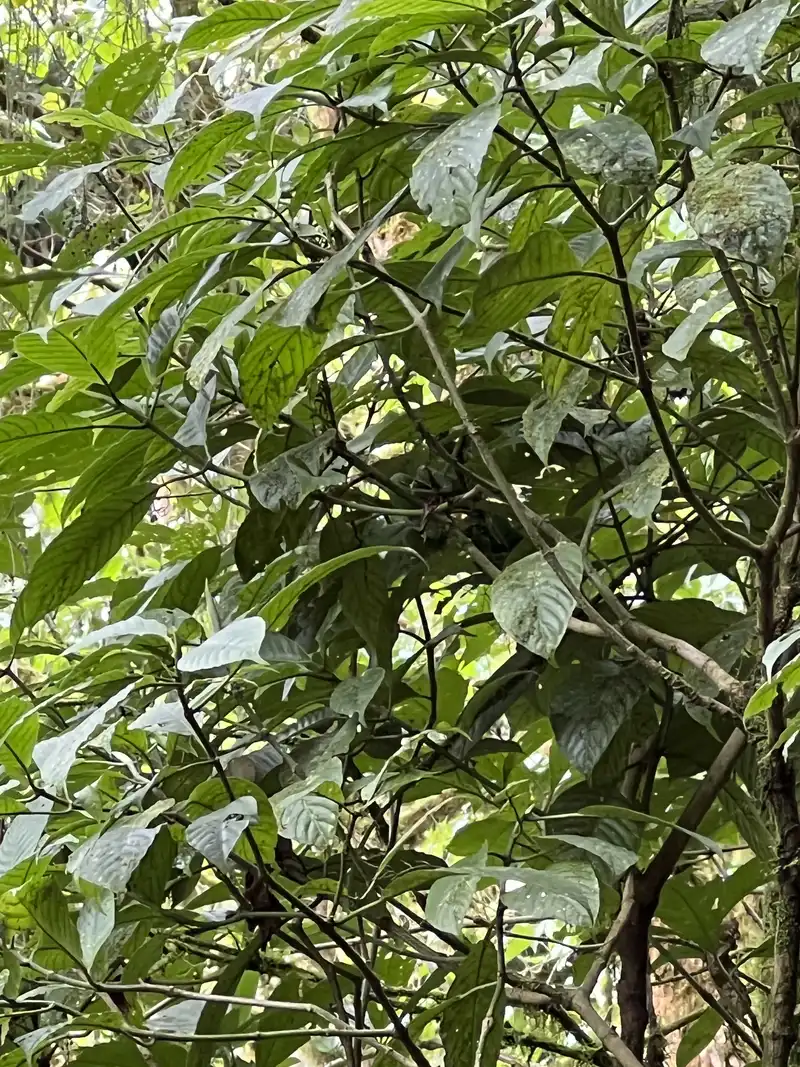 There's a snake in this picture. We would not have seen it except for a mixed flock of birds causing a ruckus. It's unusual to see a mixed flock, so our guide knew something was up.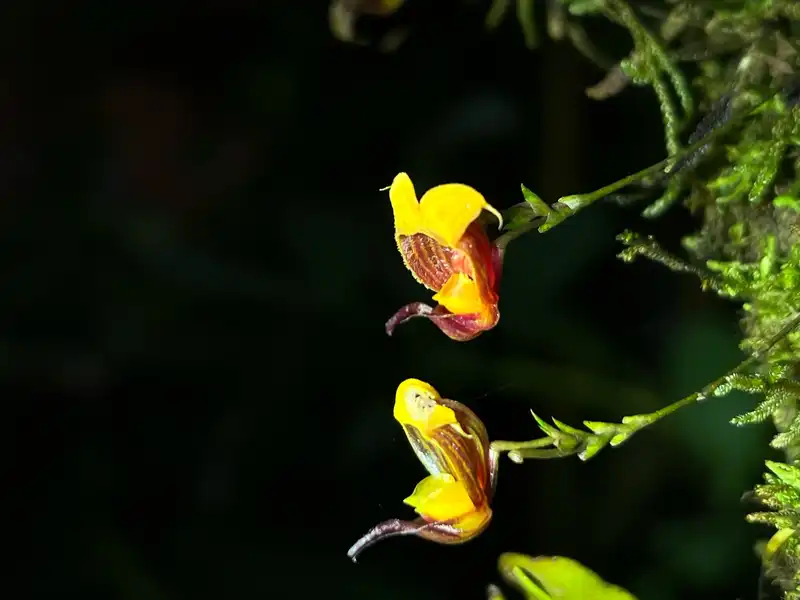 There are over 1,300 species of Orchids in Costa Rica. They mostly grow on a host tree. These were at the entrance of the Cloud Forest Preserve.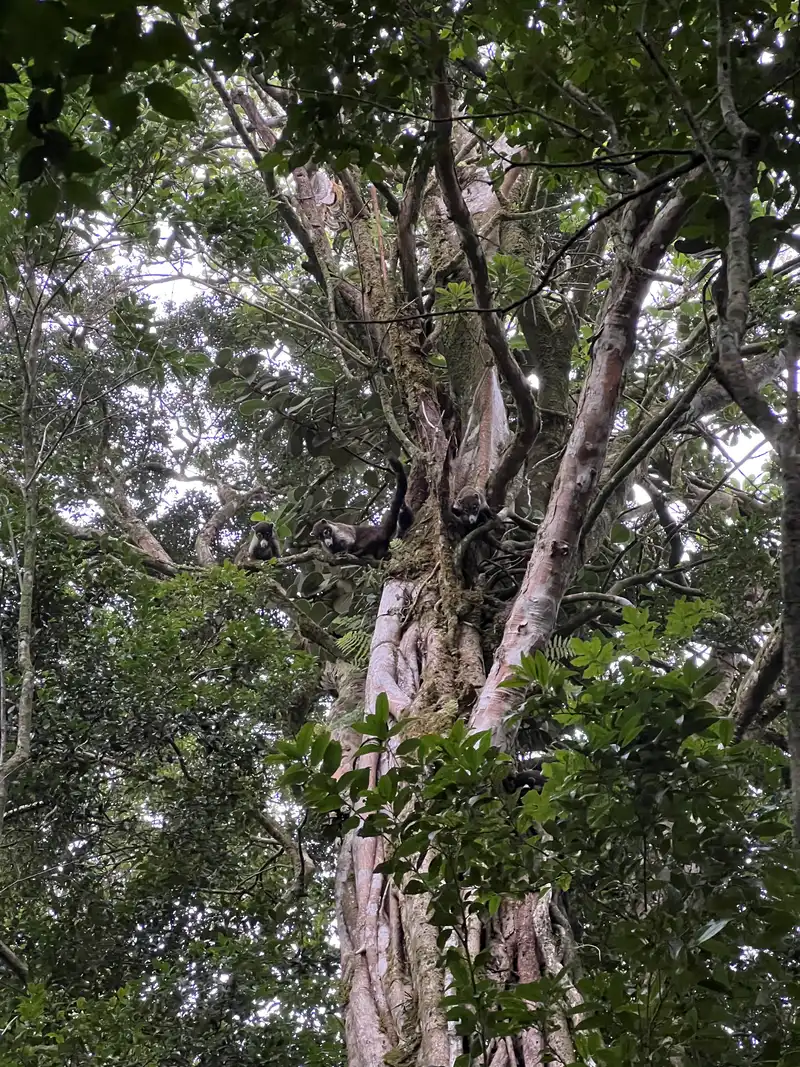 Coati's are a type of raccoon and a bit of a menace in Costa Rica. They don't attack humans, but will certainly rummage through your stuff and invade your room if you aren't careful.
Beyond walking around and looking at stuff, there is no shortage of adventuring opportunities. Our hotel was right next to the original zip line tour, which is so old there's even a picture of Jimmy Carter. Despite the aforementioned fear of heights, zip lining was a must do for this trip.
The tour was setup nicely to get over the fear. The first task was to jump off a 25ft platform and swing like Tarzan. Then they took you through a series of ever lengthening zip line runs. There was a rappelling interlude (I am not a fan of jumping off perfectly good structures), followed by a rustic rope ladder climb (I found this surprisingly not-terrifying). The final set of zip lines culminated in one 800m segment over the entire resort followed by a fast, downhill run. By the time you get to the final part where you are hundreds of feet above the canopy, you actually feel like a pro and it's easy to have fun. My feet still tingle thinking about the small platforms between the runs though.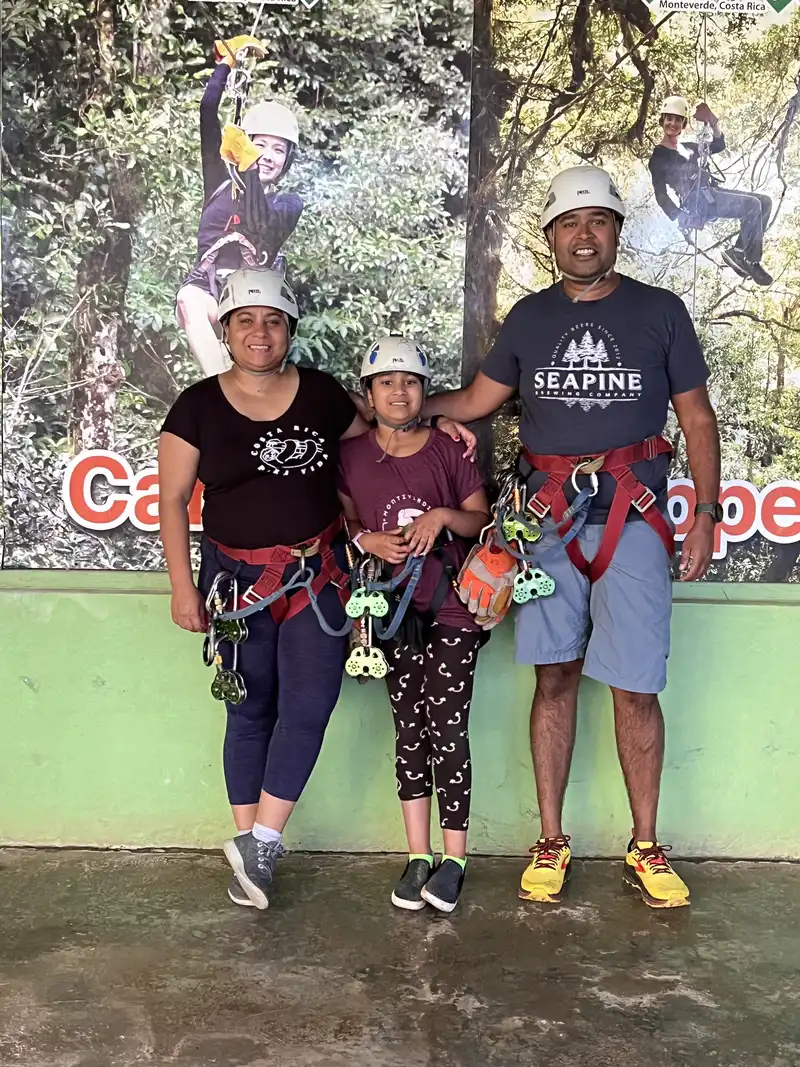 There's some trepidation behind those smiles.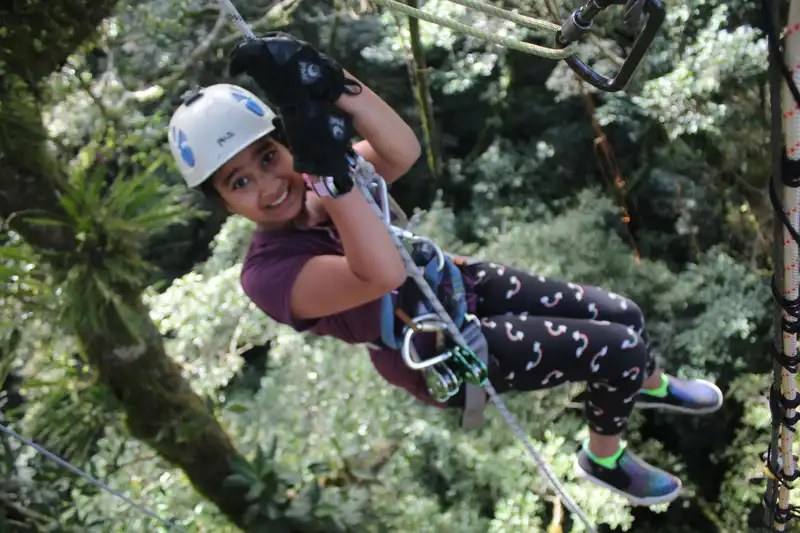 I think rappelling was the hardest part. It feels like you should fall, but you don't and its kinda confusing what you're actually supposed to do.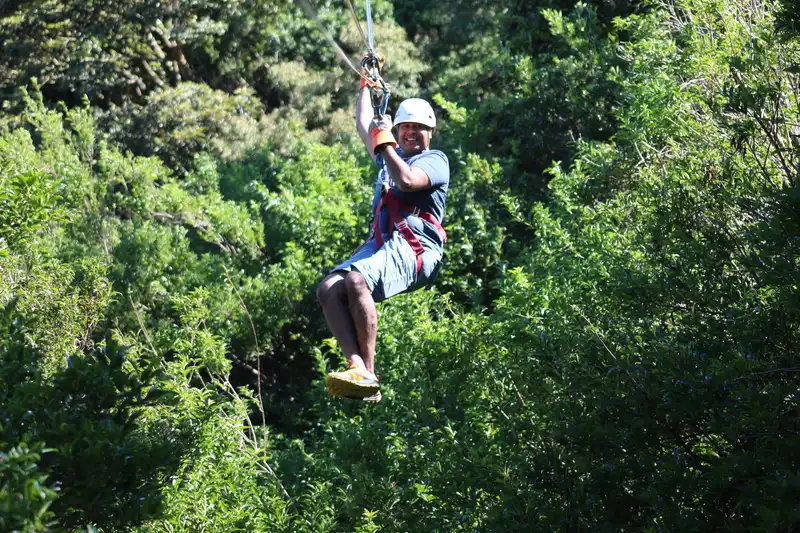 This ended up being pretty fun. There's barely enough time to get scared while on the shorter runs and by the end it all feels pretty routine. I even looked down while flying over the resort.
With the setup of the lodge and weather, Monteverde was the most relaxing and peaceful part of our trip. Our place was out of the way and the loudest thing around were the ziplines and howler monkeys. Everything is outside as well, so you do start to feel a little more connected to nature.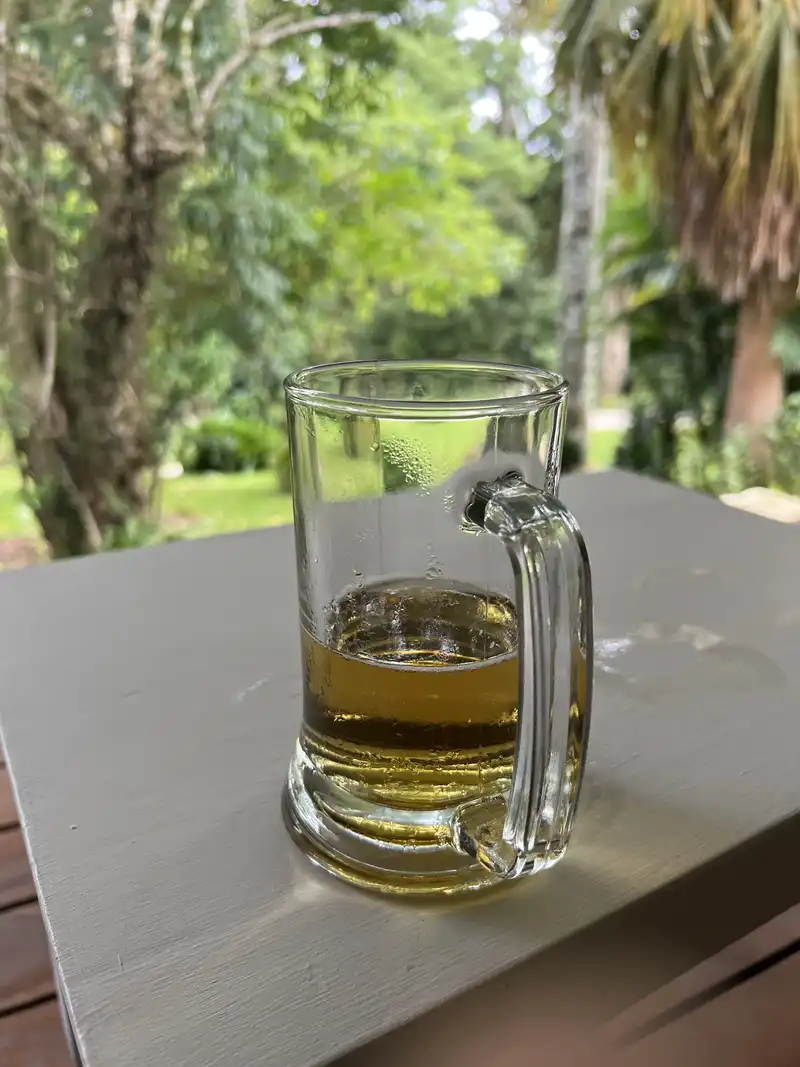 I really enjoyed having this beer while reading a book and looking at the birds. I did try a few of the local microbrews (the IPA was not good), but as far as macro brews go, Imperial was pretty solid.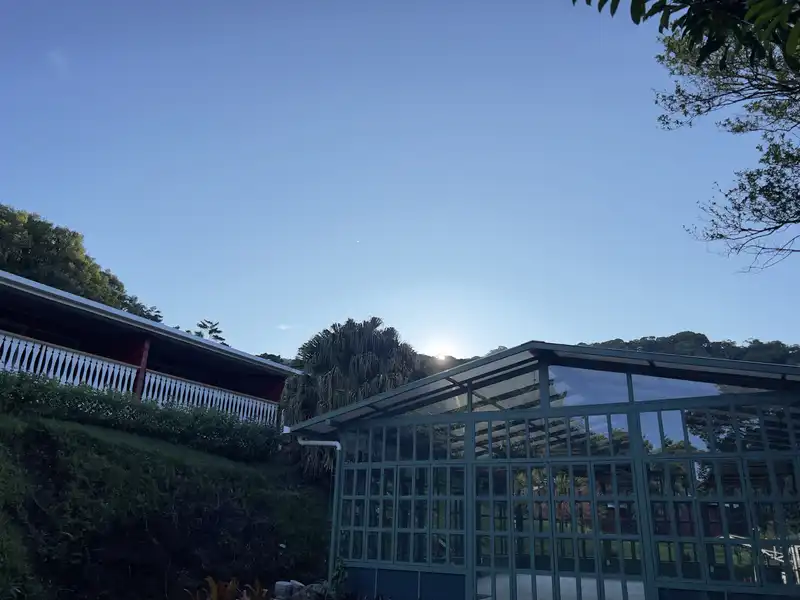 It was either cloudy or we were facing west when the sun came up. This was one of the few times we saw a sunrise.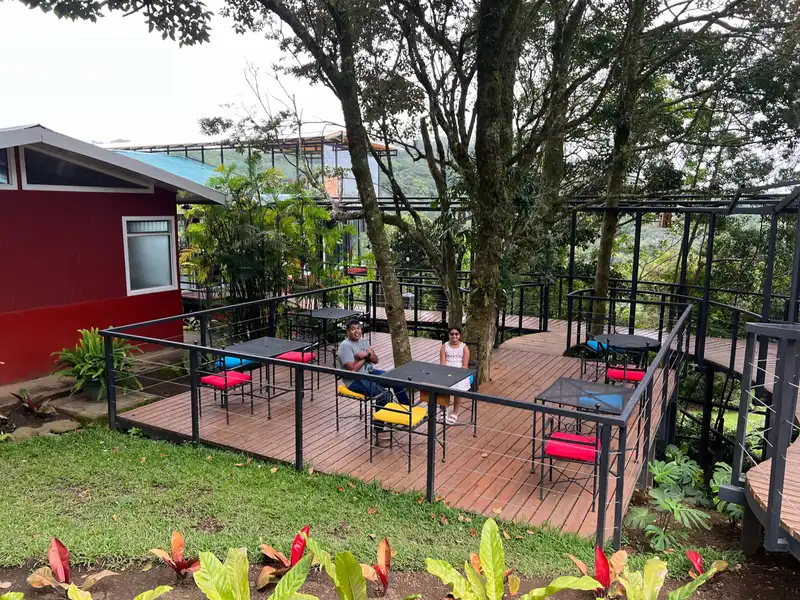 Nearly everything is outside, including the hotel lobbies.
To the Beach!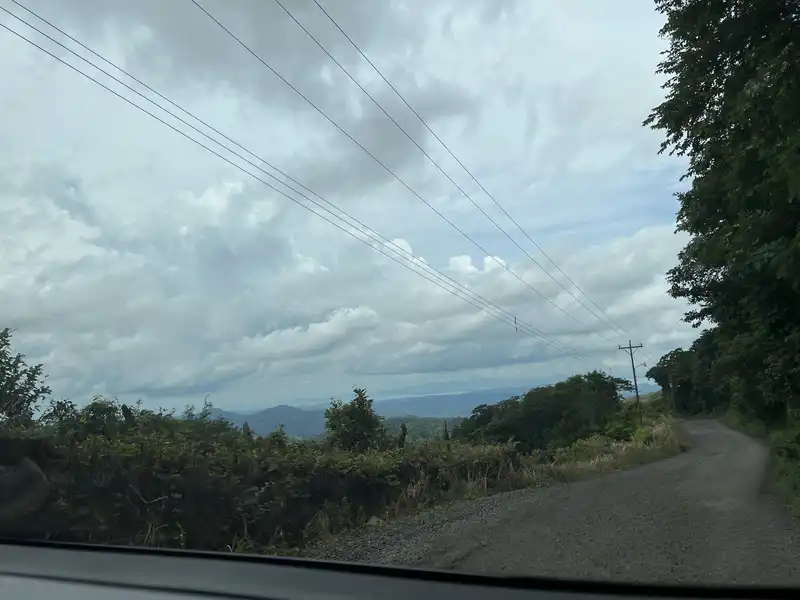 Descending down the mountain. The roads got better as it got flatter.
The mountain portion of our vacation was over and it was time to meet up with my brother's family in Portero Beach. This time we stayed in a more traditional resort-style hotel that had a swim-up bar and rooms with A/C! The A/C was so nice after spending the day sweating in the heat and humidity.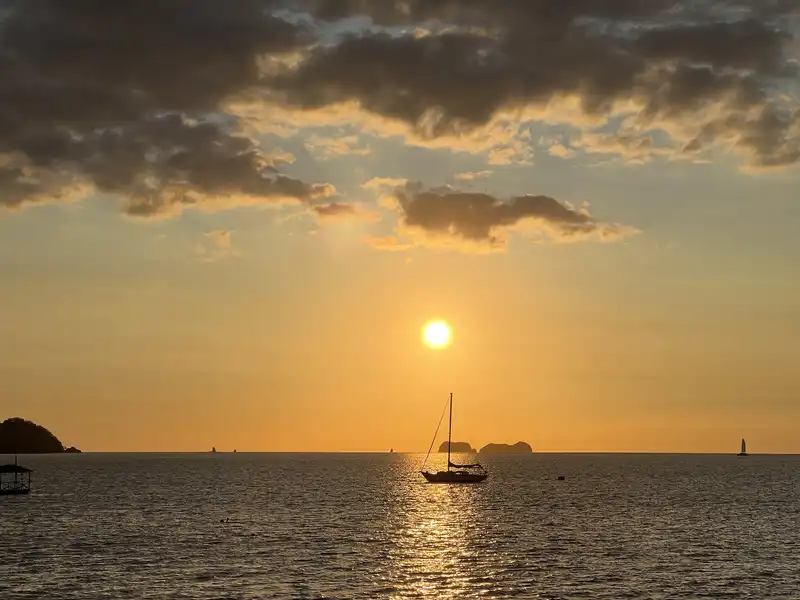 Sunset + Beach. There are really not many better combos.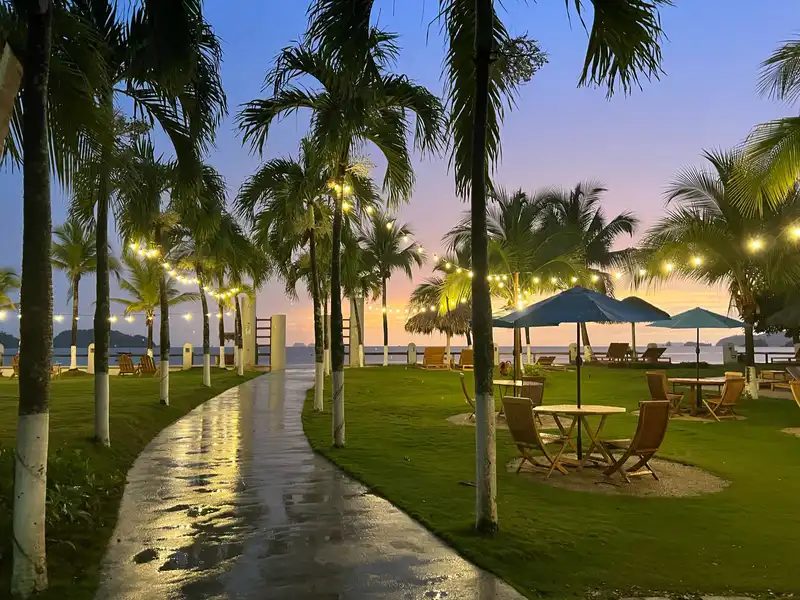 The first night was pretty rainy, but it started clearing as soon as we arrived.
While it caused some frustrations with booking, how not overdeveloped Costa Rica is was very nice once we got there. During the weekdays, we almost had the beach and pool to ourselves.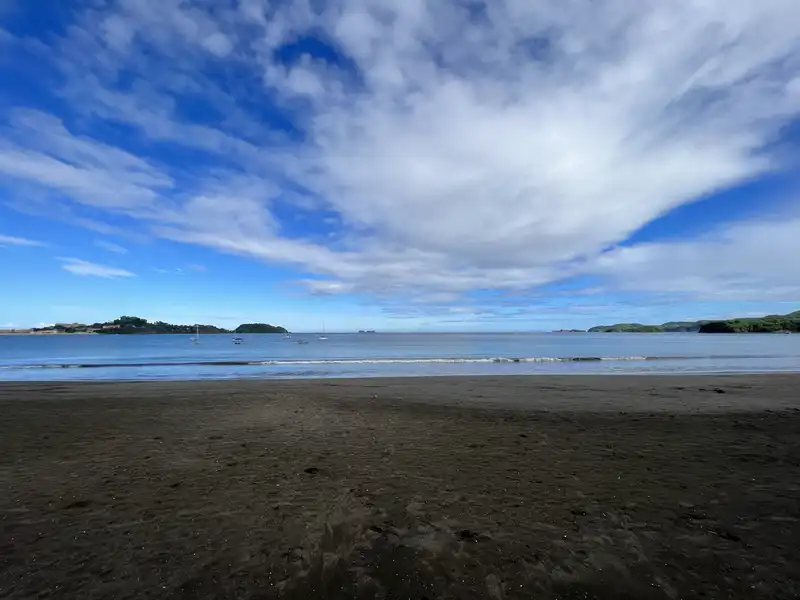 The water here was pretty shallow with waves that were fun to play in but not overwhelming.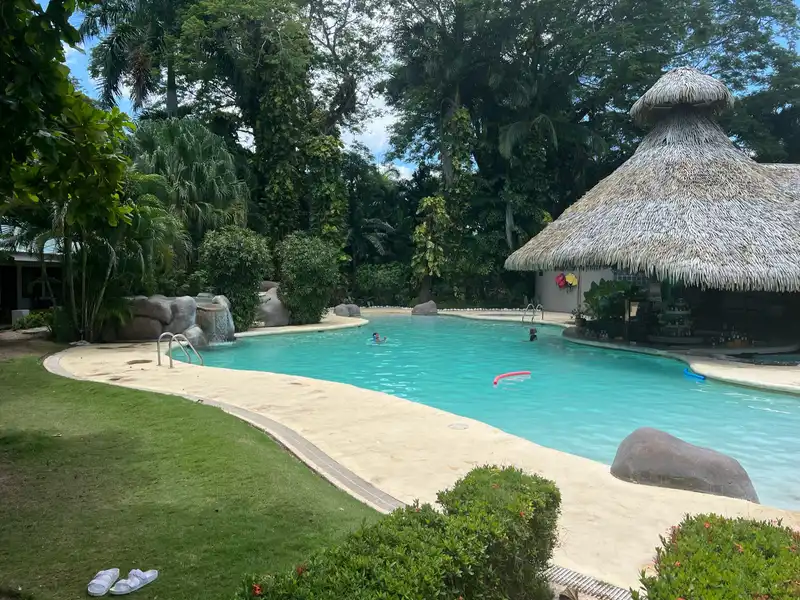 Ocean to pool to swim up bar back to ocean was our routine on repeat for these days.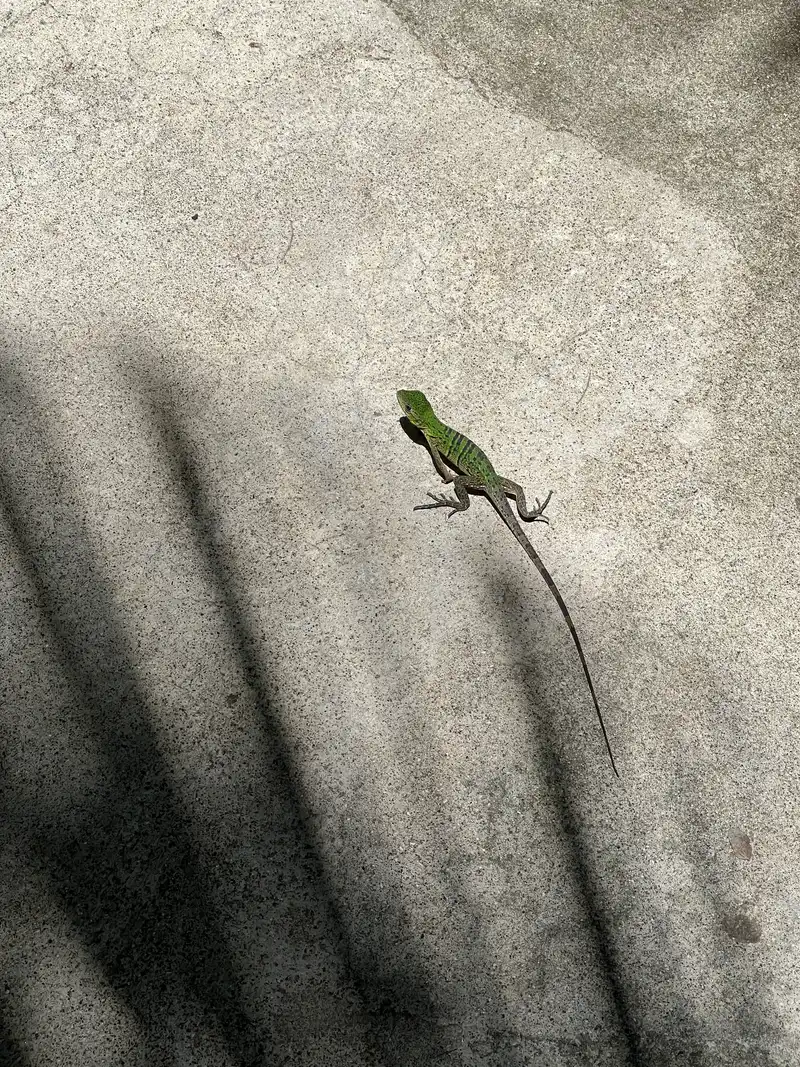 There were plenty of geckos. They seemed to like the hot concrete.
This was time set aside mostly for spending quality time as a family and relaxing. We played in the pool with the nieces and nephews, frequented the bar, and visited the spa. Though we did sneak in some excursions.
A highlight was Conchal beach. To reach this beach you have to walk the length of Brasilito beach since all the parking is at that end. Brasilito did not seem to have any notable benefits over our local beach. Then you climb over a little hill and find yourself on a completely different beach made up of small seashells. The composure of the beach also meant the water was very clear.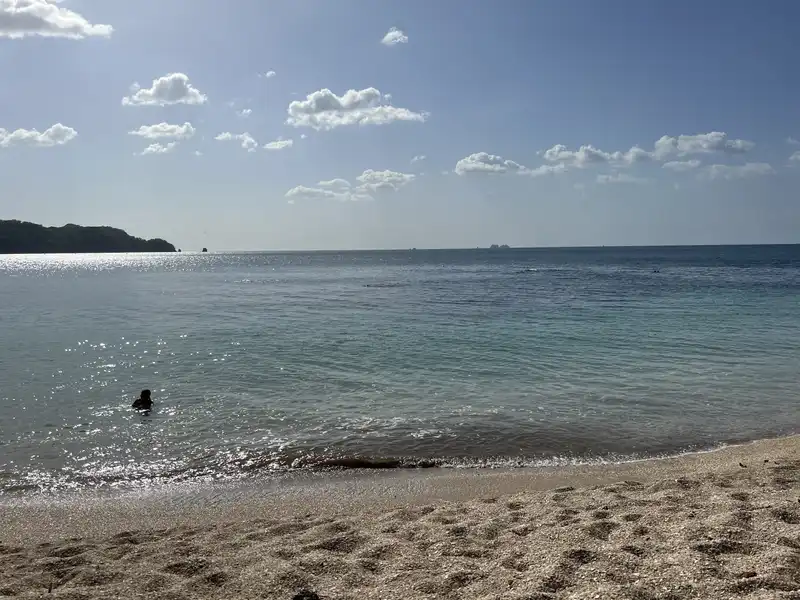 This beach is made up of little shells. It's amazing how different it is compared to the beach just a few meters away.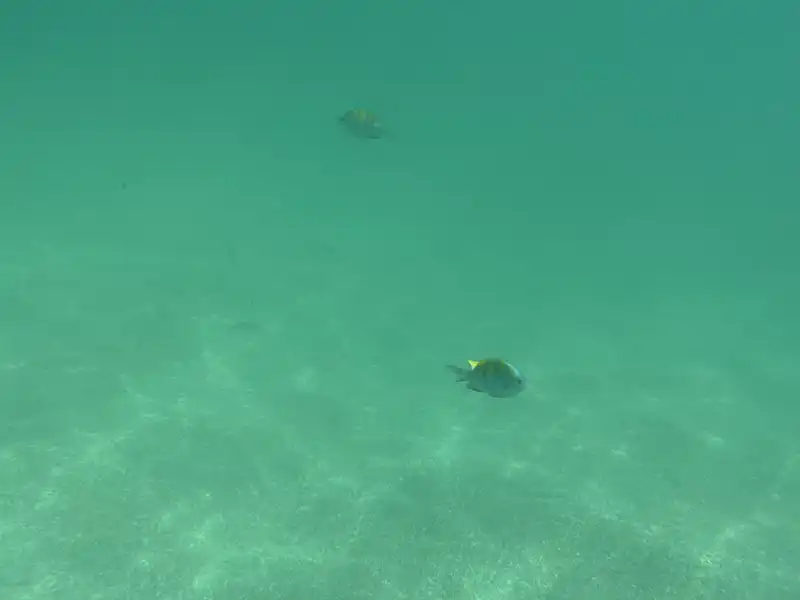 The water is so clear you can snorkel right off the beach. I saw tons of fish, including some larger schools in the deeper water.
Conchal beach is full of locals providing services. There was one guy who called himself "Sebastian Service" who clearly watched too many Salt Bae videos that we ran into on the way to the beach. But he made a pretty decent cocktail.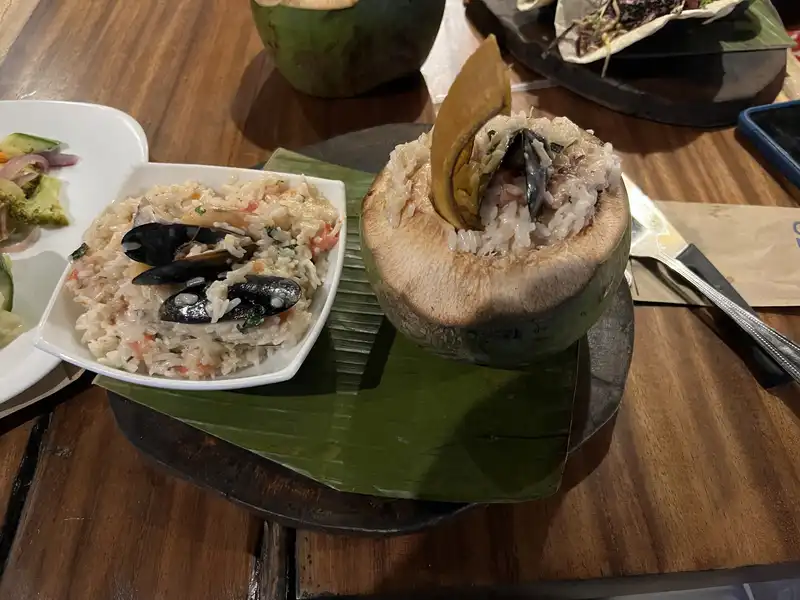 Another outing was to a restaurant called Coco Loco. They had a paella like dish called the Loco Coco.
We got out a little to explore some of the local restaurants. The newish Mexican place El Diablito put us on their instagram. On our final day we finally made it to the restaurant next door called Hemmingways, which was actually pretty cool inside with its own swimming pool and lawn. Our favorite shot ended up being the Chili Guaro though sadly we didn't seem to take a picture of this.
I was somewhat disappointed there was no Hemingway daiquiri, but happy to settle for the Oak Park Gin and Tonic.
One morning the women folk all decided to visit the spa so the men decided to go ATVing. We had a two hour tour that took us along a dried out river bed near the monkey trail. I've never driven an ATV before and the soft suspension took some getting used to. After that it was a blast going through the puddles and over the rocky roads.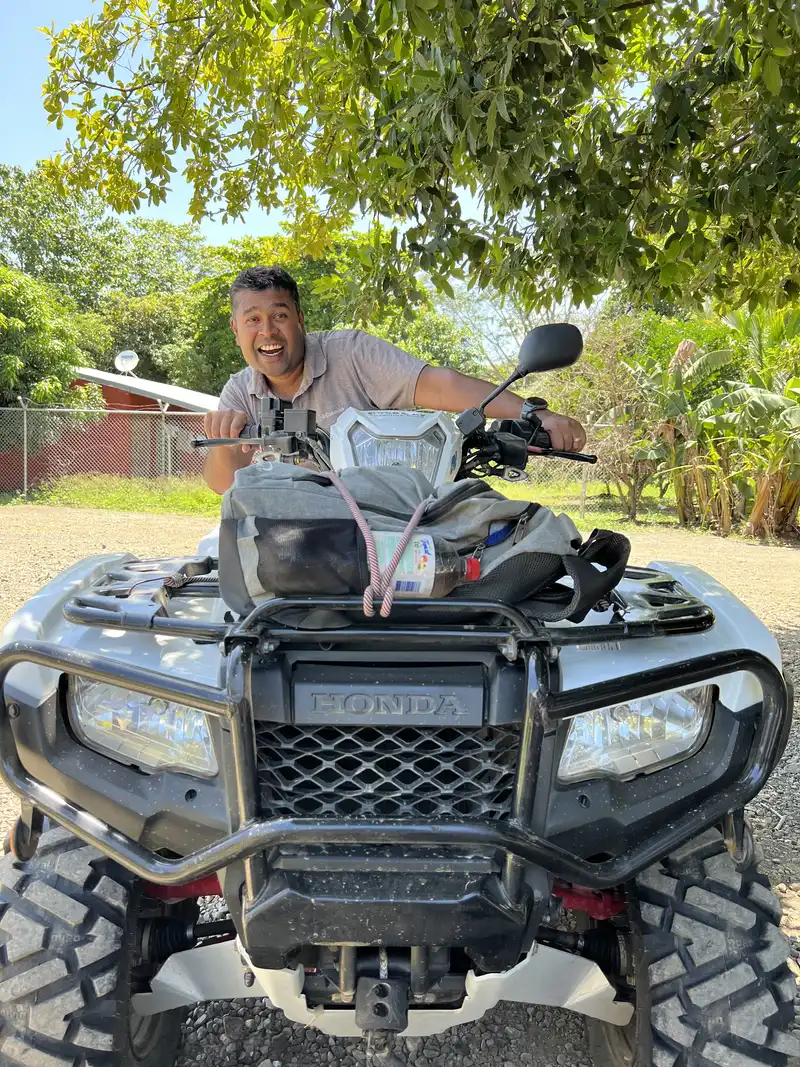 Elated after a successful ATV excursion.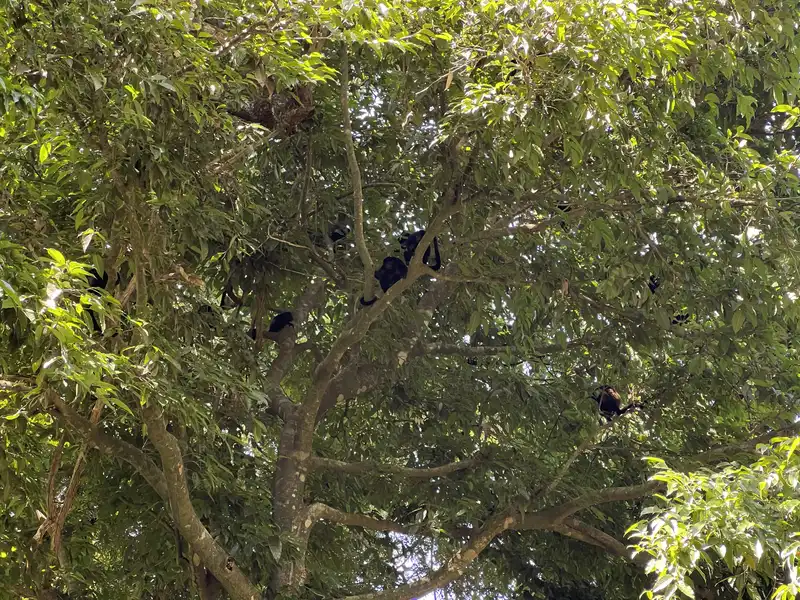 We saw this tree full of howler monkeys on our tour. Despite their reputation, they did not respond to our guides attempts to goad them into calling out by revving the ATV engine.
Our time in Costa Rica was coming to a close but there was more more amusing scene.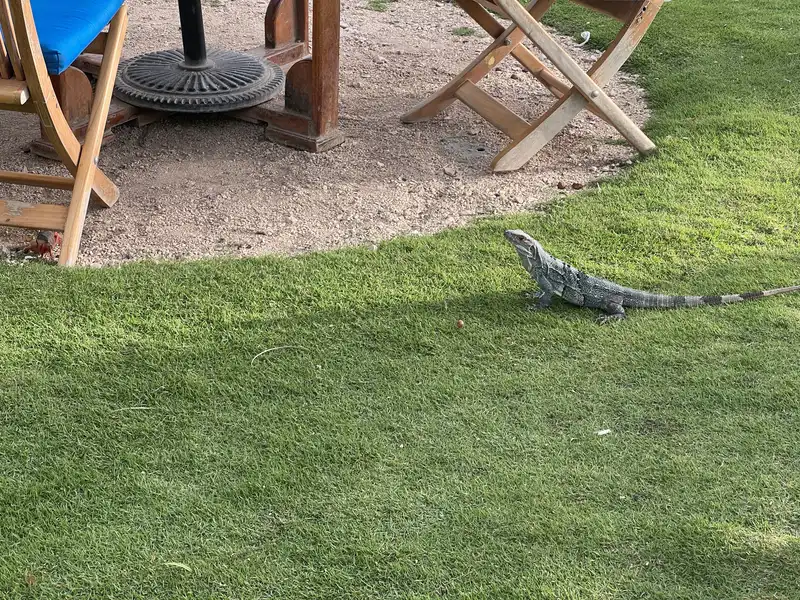 A crab, left, hiding under a chair, wandered far from the beach and was promptly chased by an iguana. The standoff continued for a while until the crab successfully hid under the table base and the iguana lost interest.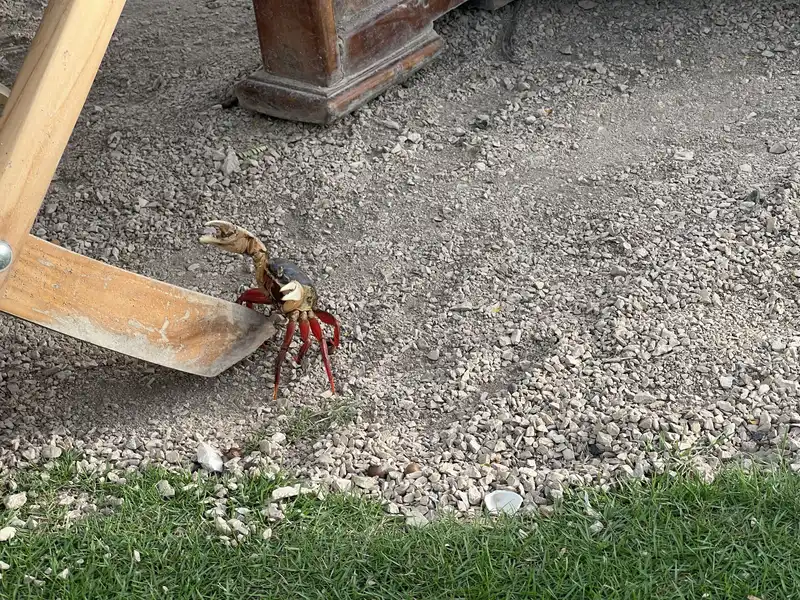 The crab close up. The crab walk is very amusing in person.
Final Thoughts
Costa Rica was a very pleasant place to visit. The heat and humidity got a little excessive for us, especially since all the meals were outside. The people were very friendly and helpful and appreciative that tourists were coming to visit.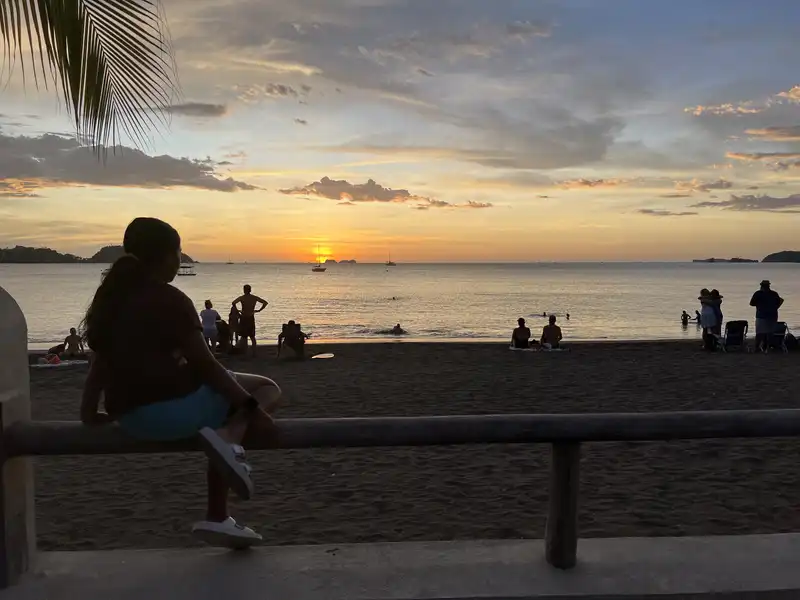 Our last sunset on the beach.
The country also felt very safe. You don't hear a lot about shakedowns or problems. We encountered nothing strange when driving into the countryside, save a few errant cows. You also don't get a bunch of warnings about where to go, like you would in Mexico.
We'd love to to back in a few years and visit the parts that we missed, especially the parks to the south. It was a great country and a great time and we miss the fresh tropical fruit and hospitality.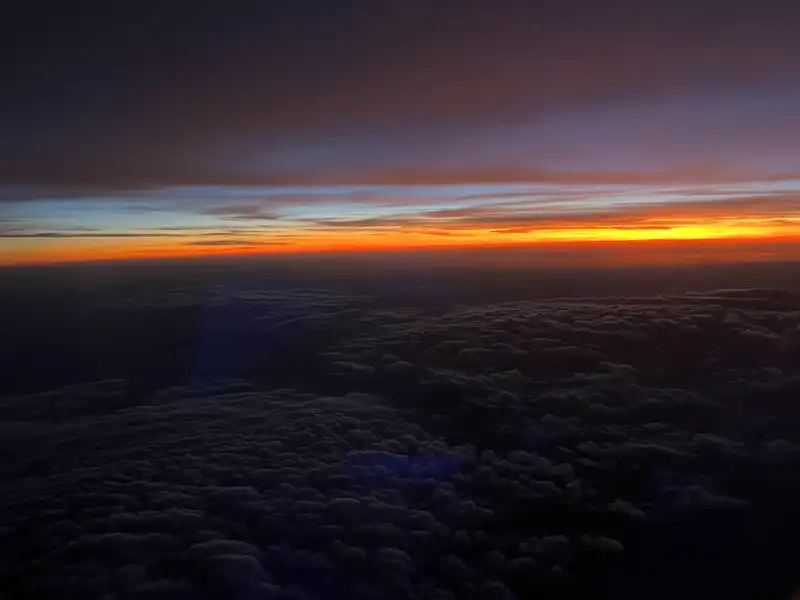 In a rare treat, I actually got the window seat on the plane ride back.