Goodbye to the RX-8
Posted on Jan 23, 2015
It was finally time to perform a task that I had been putting off for at least 3 years. I finally sold my beloved Mazda RX-8. It feels silly to have such an attachment to an inanimate object, but that car was full of memories, a joy to drive, and a recurring character in the first phase of my adulthood.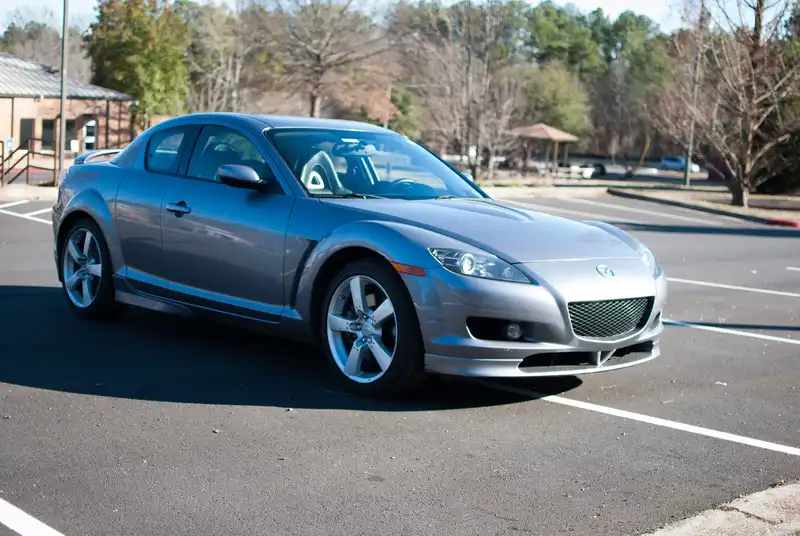 The Mazda RX-8
I've always wanted a sports car. I loved watching auto racing, I've sunk countless hours into the Gran Turismo franchise, and I'd constantly check out books and magazines about cars. Summer of 2015 found my wife and I in need of a new car. Having a few months of employment behind me, it was time to act on my childhood dream.
The RX-8 was like no other car on the American market. It wasn't some pickup truck engine on a family sedan platform dressed in racing overalls like some of its contemporaries. It was designed from the ground up to be a quirky sports car, complete with motor that no other car in the world had.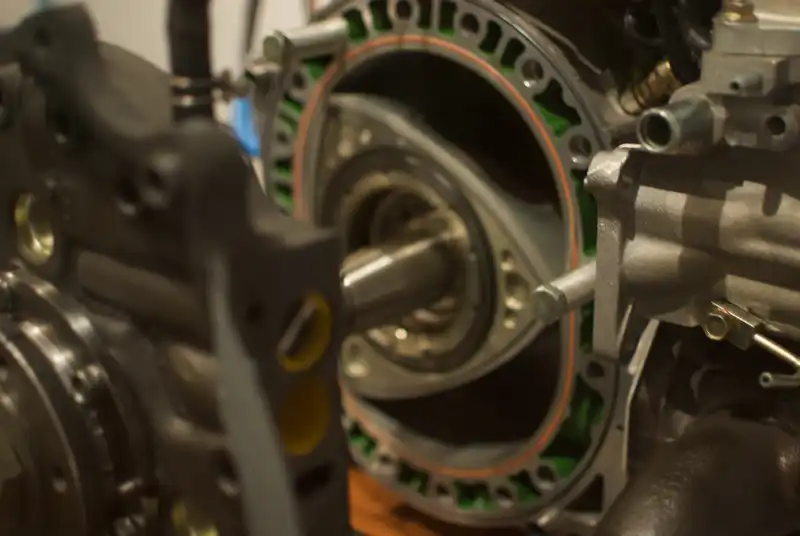 A cutout of the rotary engine
The car certainly wasn't the fastest. The low end torque is abysmal; the car won't accelerate on some of the area hills. What it lacked in acceleration, it made up for in the driving experience. It could whip around corners so quickly. The engine's ability to rev down relegated the brakes to a seldom used accessory. The coolest feature of all was the beep when you hit the redline. What other car expects you to drive it all out, all the time?
Not only was it fun, but it was actually pretty practical. There was plenty of truck space and a pretty comfortable back seat, at least once you were able to get in. The seats were also the perfect size for a 2 year old child.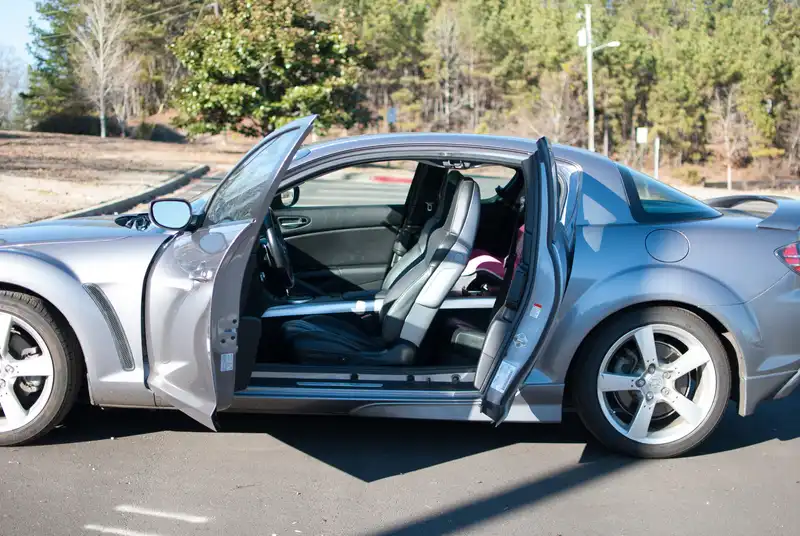 The suicide doors were pretty handy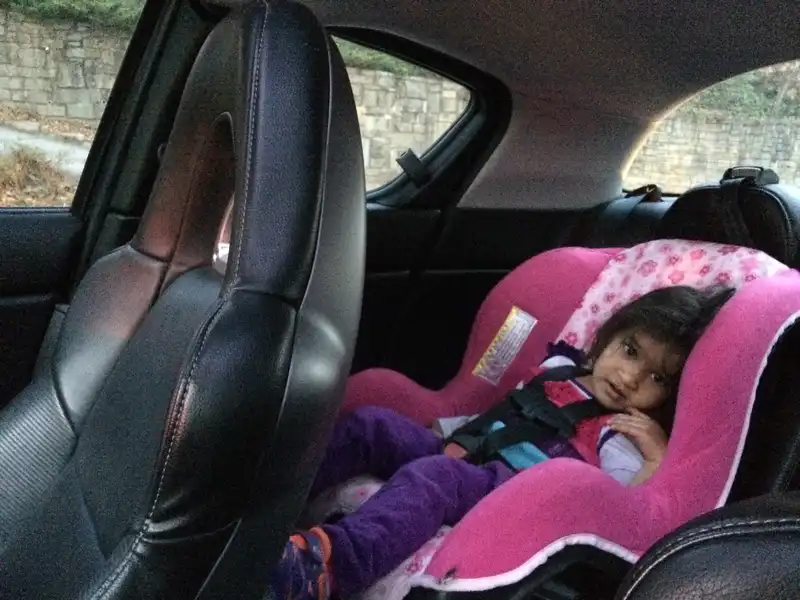 Mira loved the coziness of the RX-8 backseat
Pretty practical, unfortunately, is not enough when you have a young child. A rear facing car seat was out of the question, not even Sonali could fit in the front. The trunk was of a decent size, though space got tight on a day of errands. We had moved from the suburbs into the city, trading highway driving for stop and go. The car's acceleration performance to gas consumption was starting to wear on me. Life had transitioned me out of the sports car phase.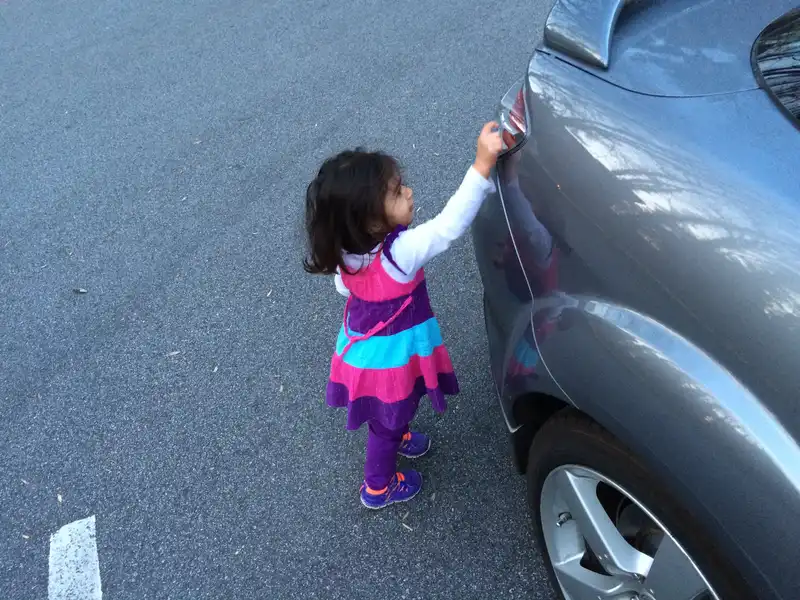 Mira giving her car a hug
I was getting a crappy deal on my trade-in, so I kept the RX-8. I had a blast every time I drove it. I got tired of it every time I saw it sitting unused in the garage. I thought it would be fun to have an automotive choice. It turned out to be an annoyance.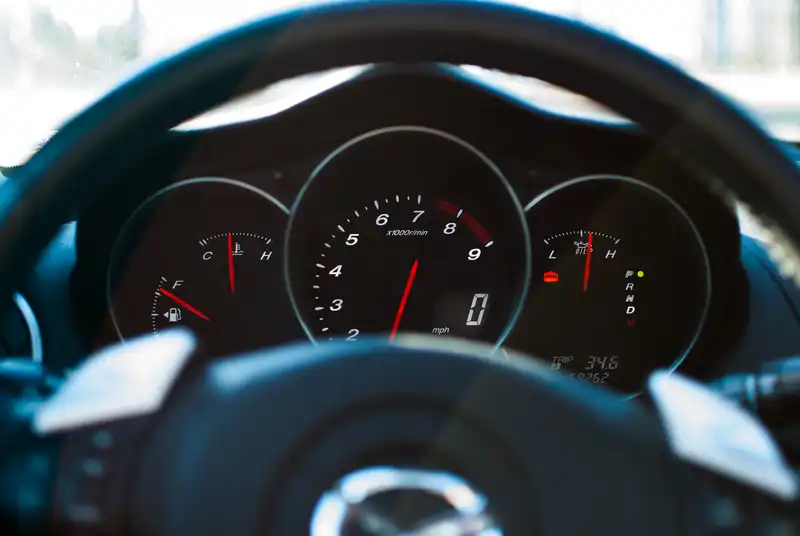 A well put together dash, with a little reminder of the quirks
The young adult period has passed. Driving is not important to me anymore. Gran Turismo sits unused gathering dust. I'd rather go for a run, ride my bike, or even golf, if I get a few baby free hours on a weekend. I might catch the final few laps of a race, if it happens to be on while Mira and I enjoy our morning beverages. The RX-8 was still my favorite car, but not the one I wanted to drive. It was time to find it a new home.
There is one demographic a slow but cool car is perfect for: a teenager. Just a few days after putting my ad online, a father inquired about purchasing the car for his soon to be 16 year old son. Less than a day later, the car was happily in the hands of its new owner.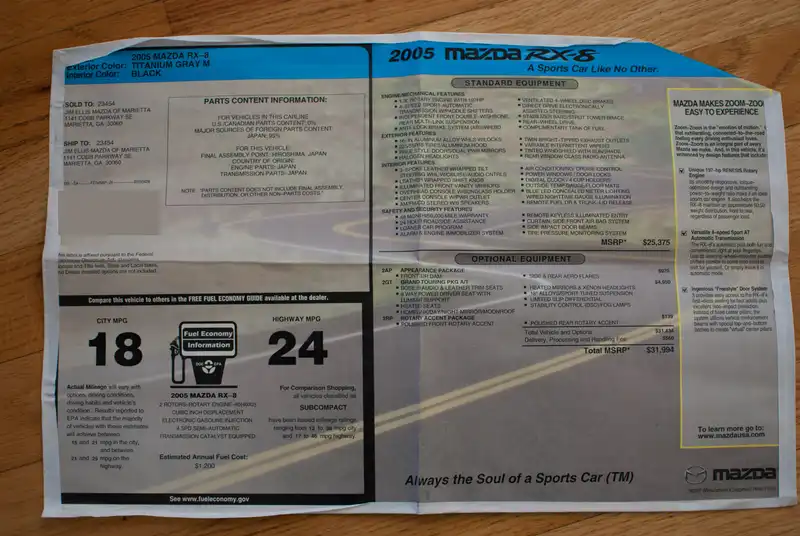 The original window sticker
The RX-8 was the first big purchase that my wife and I made as a married couple. Our lives have changed drastically since our wedding. We are homeowners, got our first dog, and our first child. We went from being a couple to a family. The RX-8 was the last holdover from that time in our life. Letting it go was the final commitment to putting that time in the past. Maybe that's why it was so hard to let it go.